key releases
Russell Watson
- Return of The Voice
Live at The Royal Albert Hall
Russell Watson, Capital Voices, National Symphony Orchestra
LACEDVD | LACE468 | DVD

BRAND NEW RUSSELL WATSON DVD! The spotlight was very much on the man with one of the most sensational singing voices that the classical world has ever known. But he was not alone; filling the enormous stage with him was the forty-eight piece National Symphony Orchestra, the assured Capital Voices and an eighty- strong backing choir. Russell's faultless performance starts with a powerful rendition of 'Somewhere' and 'Ave Maria' and is followed by a string of incredible numbers such as 'Funiculi Funicula' and 'Volare' and closes with 'Nessun Dorma'. One of the highlights of the wonderful set comes when Russell is joined by classical crossover newcomer Mary-Jess for a Phantom Of The Opera medley, and an amazing duet of 'The Prayer'.

RUSSELL WATSON AUSTRALIAN 2011 TOUR DATES
Perth—Burswood Theatre
Tuesday 8 November 2011
Sydney—State Theatre
Saturday 12 November 2011
Melbourne—Melbourne Convention Centre
Monday 14 November 2011

Huppertz Metropolis Original Motion Picture Score
Berlin Radio Symphony Orchestra, Frank Strobel (conductor)
CAPRICCIO | C5066 | 84522105066 | CD

WORLD PREMIERE RECORDING
This new recording of the original soundtrack for Fritz Lang's cult classic film Metropolis soundtrack reveals a film scroe that revolutionised movie music. At the end of October, in association with The Mad Square: Modernity in German Art 1910-1937 exhibition at the Art Gallery of NSW, the Sydney Symphony Orchestra under Frank Strobel will present the film Metropolis with the complete score by Gottfried Huppertz. It's a perfect tie-in between the visual and musical arts. An enormous amount of work went into the restoration of the complete score and the result is stunning. The CD notes tell the whole story.


The Best is Yet to Come
The best is yet to come, Smile, Too darn hot, I've got a crush on you, This can't be love, Cheek to cheek, Fever, That old black magic, It's so easy to remember, You and the night and the music, old devil moon, The good life
Laura Fygi (vocals), big band featuring Jan Menu and Johan Plomp
OUT OF THE BLUE | PRCD2011001 |
8713545212013 | CD

Edison Award winner Laura Fygi has gained gold and platinum sales for her prvious albums. On her latest album, The Best is Yet to Come, she sings classic jazz standards with all the style and excitement you would expect of a world-class artist backed by a high-powered big band. She regards The Best is Yet to Come as 'extra special' because it celebrates her 20th Anniversary as a solo artist. You'll find it hard not to sing along yourself!
PLAY TRACK 1

Children First
Songs by Carsten Morch (music) and Lisa Freeman (words)
Antonio Banderas, Anne Sofie von Otter, Rebecca Caine, Barbara Hendricks, Bo Skovhus, Camila Nylund, Song Zuying, Inger Dam-Jensen, other soloists, Sylvia Young Theater School Children's Choir
UNICEF | UNI201001 | 730099600620 | CD

First album from the UNICEF label. When you buy this CD you support the work of UNICEF to improve children's lives around the globe. The songs on this delightful album, composed by Carsten Morch to lyrics by Lisa Freeman and Richard Rudolph celebrate the stages of human life. A wonderful album for children and adults alike.
PLAY TRACK 2

media player
new on putumayo
NEW IN OCTOBER 2011!
Acoustic Café
Crazy Love, Danger and Dread, The World Keeps On Turnin', Ring Them Bells, One More Night In Brooklyn, Dance With Me, Manhattan Moon, The Stable Song, From Russia With…, Any Day Now, Love Serenade
Harry Manx (UK/Canada), Brown Bird (USA), Trevor Hall (USA), Sarah Jarosz (USA), Justin Townes Earle (USA), The Sweet Remains (USA), Lucy Kaplansky (USA), Gregory Alan Isakov (South Africa/USA), Fences (USA), Jon and Roy (Canada), The Waifs (Australia)
PUTUMAYO | PUT313 | 790248031323 | CD

A captivating collection of singer-songwriters from Australia, the USA, Canada and South Africa.
PLAY TRACK 4
African Beat
Yehisan Umoya Ma-Afrika, Rebel Blues, Alapomeji Anthem, Kalam Nege, Zonza, Quel Est Mon Pays?, Mogoya, Africa, Bawali, Wosoubour, Lagos Sound System
Busi Mhlongo, Lex Sen, 9ice, Issa Bagayogo, Fredy Massamba, Tode & Siro, Donso, Adama Yalomba, Afro-fiesta, Vieux Farka Toure, Les Barons
PUTUMAYO | PUT311 | CD

African beats and Western rhythms unite in these contemporary tunes from Cape Town to Bamako.
PLAY TRACK 5
Latin Beat
Goza, La Cumbia Lounge, Chocolate, Locuraleza, Asi Sin Querer, Gajira, Del Ray, Echale Guarapo, Quedate Donde Estas, Pelo Shao, Bonita Mente-Benita Suerte
Moneda Dura featuring Ibrahim Ferrer, Charanga Cakewalk, Profetas, Jontre, Digitano, Grupo Loxito, Sola Rosa, Edessio alejandro featuring Adriano Rodriguez, Calle 66, Sarazino, Mariposa Solar
PUTUMAYO | PUT312 | CD

Upbeat grooves from established and rising stars of Latin pop, R&B and salsa.
PLAY TRACK 6
COMING IN NOVEMBER 2011!
Celtic Christmas
Here We Come A-Wassailing, O Come Emmanuel, Little Drummer Girl, Noel Nouvelet, Angels We Have Heard On High, Good King Welceslas, Nollaig Bhan (White Christmas), Joy To The World, Manz Jezebel Carol, God Rest Ye Merry Gentlemen, Auld Lang Syne
Albion Christmas Band (UK), Charles T Cozens (Canada), The Gothard Sisters (USA), DruidStone (Ireland), David Huntsinger (USA), Lasairfhiona Ni Chonaola (Ireland), Steve Schuch & The Night Heron Consort (USA), Aine Minogue (Ireland), Savid Arkenstone (USA), Dougie MacLean (Scotland)
PUTUMAYO | PUT314 | 790248031422 | CD

Beautiful Irish and Scottish voices, entrancing Celtic instrumentation and classic Christmas carols provide an uplifting soundtrack for the holiday season. Other Christmas-related Putumayo albums include World Christmas Party (PUT305), A Jazz & Blues Christmas (PUT285) and New Orleans Christmas (PUT256).
PLAY TRACK 7
putumayo colouring books & stickers



Africa Colouring Book




Europe Colouring Book




Latin America
Colouring Book










Africa Sticker Collection




Europe Sticker Collection




Latin America
Sticker Collection

Three fun Putumayo colouring books and sticker collections featuring the distinctive artwork of longtime Putumayo CD illustrator, British artist Nicola Heindl. Her colourful, folkloric style creates universally appealing CDs and other products that combine art and culture.
more key releases
DJ Ravin
Urban by Nature — When Bangkok Meets Mauritius
Various Artists

NAIVE | VP1108 | 2CD
Two CD mix by the world famous DJ Ravin, best known for his work on the Buddha Bar series, with a special album cover album designed by Kenzo and Christian Lacroix.
CD 1 - Palinque (Betina Bager, Brian O), Summertime (Chris Coco), Neve's for None (Worst Friend), Just Let Go (Dreadzone), Lob Stop Sta (Boom Clap Bachelors), Rainy Days and Mondays (FAC 15 featuring Cathi O), The Eighty Eight (Fishtank), Tippie Hippie (Jerry Dimmer), Trouble (Soleil Fisher featuring Mirijam), White Russian [Lazy Summer] (Share Havlicek), Snake Charmer (Benny Berigan), I Dream of Jeannie (Mr M & M), Coconut Girl Radio Edit (Louie Austen, Smacs, Patrick Kong)
CD2 - Million Clouds (Blue Pilots Project), Dreamin (Oslo Swan), No Ordinary Love (Tereza), The Same Mistake (NAIAD), Little Time (The disclosure project), Feel What You Want (Phonique featuring Rebecca), Silent Now (Parov Stelar featuring Max the Sax), Underground Airport (Eyecam), Urban legend (Chris Nemmo), Bright Star Sunset Mix (Stimming, Ben Watt, Julia Biel), Runnin Back John Ciafone Vocal Mix (Conan Liquid, Willy Washington), Angels CTRL D-AVE & Marq Kanas Remix (Electro Blues featuring Limmo), Lullaby (Nikonn)
Precious & Rare Collection
naxos featured album
Lentz Ingwe
Zane Banks (electric guitar)
NAXOS | 8572483 | 747313248377 | CD

Australian composer and artist. Luxembourg-born Australian composer Georges Lentz's 60-minute solo guitar work Ingwe (an Aboriginal word meaning 'night') is a truly extraordinary achievement. Here, heavy metal meets musical metaphysics, as shrieking amplified sound clashes with the spirituality of Indigenous Australian cultures. Conceived as part of an open-ended cycle of compositions with the religiously inspired title Caeli enarrant... (The Heavens are Telling, Psalm XIX), it is at once a nod to guitar heroes such as Jimi Hendrix, and a monumental meditation on the human condition, the bleak vastness of the Australian desert and the awe-inspiring radiance of its night skies.
PLAY TRACK 3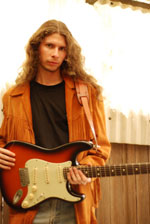 Zane Banks, one of the most versatile guitarists of his generation, has performed in Europe, Asia and in his native Australia. From 2005-2009, Zane worked extensively with composer Georges Lentz as a technical assistant during the time Mr Lentz was composing Ingwe, a unique hour-long work for solo electric guitar. Zane gave the world premiere of this composition at the Rainy Days Festival for Contemporary Art Music in Luxembourg in 2007. He has also edited and added technical annotations to the Ingwe score which is to be published by Universal Edition. The Naxos world premiere recording of Ingwe has been submitted for an ARIA 2011 Award.
'Ingwe eschews rock clichés…[Zane] Banks gives a masterful interpretation of this dark yet compelling work…interesting and progressive…powerful disc.' (5 STARS
Limelight
)
'What an amazing work! Not sure - is it classical, is it rock?...Very polished performance by a talented young Australian guitarist, Zane Banks…[Georges Lentz is] one of the really great composers writing today…Very highly recommended.' (
Cybermusic
)
See Special Video about Ingwe 'The Night Within' (in 5 Sections on YouTube):